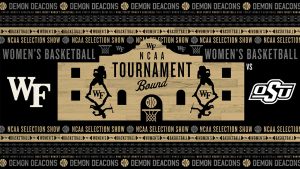 1 p.m. EST
WF vs. OSU on ESPN 2
Our Demon Deacons face Oklahoma State for the first time in school history. This will be the second all-time NCAA Tournament appearance for women's basketball and the first since the 1987-88 season. Go Deacs!
3 – 4 p.m.
Resilient Living: Home Alone During COVID
Learn resilience building skills in the context of living alone and working through the COVID-19 pandemic in this 1 hour workshop with Ashley Hawkins Parham, Wellbeing Program Manager with the Office of Wellbeing. With consideration specific to the experience of living alone during these uncertain times, we will discuss what resilience is and is not, practice trauma-informed mind-body skills and explore intentional and game-changing perspectives for continuing to navigate our new normal. You will leave the workshop with skills for managing emotions and thoughts in the moment and tools to create your own resilience plan prioritizing pro-active rest and social connection over reactive recovery. Integrating resilience building practices into our day to day lives will decrease our fatigue and chances of burnout while helping us to find times of balance and calm in the coming months and beyond. Register HERE. Capacity is limited.
4 – 5 p.m.
Business As Unusual: Why yes, I'm still working from home!
Remember when we thought the pandemic would last a month, two at the most? Well, here we are, a year later, and so much has changed, yet so much remains the same. In this interactive presentation, Perri Kersh ('92, MAED '94), founder of Neat Freak Professional Organizing, will address how we can maximize efficiency in our homes and offices. Whether you're working and/or schooling from home, or just spending WAY TOO MUCH time in your house, Perri will help you assess what is and isn't working for you and provide practical organizing principles and strategies to help you get and stay organized this year. If you're willing to do a little "show and tell" at the end, Perri promises to help you solve your stickiest organizing situations.  Register HERE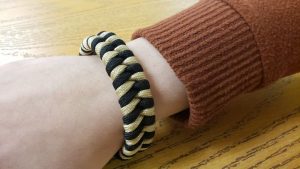 5:45 – 7 p.m.
Your Art Space with WakerSpace: Fishtail Paracord Braided Bracelet
Join Holly Mullen ('24) live from WakerSpace and braid your own black and gold paracord bracelet. $10 for the kit shipped directly to you will include everything you need. Register by Saturday, March 13. Register HERE.
6 – 7 p.m.
Call to Conversation: Community
You are invited to connect with other Wake Forest women via this virtual Call to Conversation.  Heidi Robinson (MA '11), Assistant Vice President, Career Education & Training, will be hosting this online gathering on the topic, Community, guided by this conversation prompt: Where are the places in your life where you are both deeply known and loved? Register HERE  – Capacity is limited. New to Call to Conversation? Learn more about the virtual experience HERE.
7:15 – 8 p.m.
Wake Women's Week Kickoff
We are thrilled to kick off Wake Women's Week with you! This start to our week is an exciting time for us to gather together virtually in our shared love for Mother So Dear! After a welcome, we will break out into smaller Zoom rooms for casual dialogue to kick off the week. We'll invite you to share about your favorite spot on campus and what advice you would give yourself if you could return to "start" — the beginning of your Wake Forest journey. Register HERE.