Wake Women's Week is a great opportunity for personal, professional, and meaningful connection during Women's History Month. As we prepare for an engaging week of programming for Wake Women's Week March 21-27th, we invite you to go social this month! Consider one or more of the following: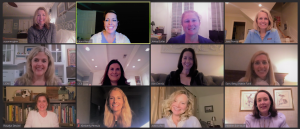 Take time out for a virtual gathering with your personal network of Wake Women, and take a screenshot of the group.
Post a photo or video of a Wake Woman (faculty, staff, or peer) who has inspired you personally or professionally.
Snap a selfie in your favorite Black & Gold threads.
Share your videos or photos using the hashtag #WakeWomen on social media (Instagram, Twitter, or Facebook) and tag @wfualumni, so we can show the world our incredible community of Wake Women!