March 25 – 27, 2022

---
Spring 2022 indoor event protocols: The protocols that Wake Forest implemented to govern University-sponsored events for spring 2022 are no longer in place. Wake Forest's COVID-19 information is available on the Our Way Forward website.
March is Women's History Month. Who is your favorite Wake Woman? Whose leadership and character have inspired you? Throughout the month, please share your stories and photos with us. #WakeWomen #WFUAlumni
Who's Coming Back
Ms. Laura (Mason) Altizer ('89, P '17, P '22, P '24)
Mrs. Sarah Anne Noland (Noland) Atai ('00)
Mrs. Andrea (Anders) Bitzer ('90)
Mrs. Julia (Smith) Bolen ('88, P '22)
Dr. Donna Ann Boswell ('72, MA '74)
Mrs. Sydney (Nightingale) Broaddus ('92)
Ms. Allegra Andreu Brochin ('19)
Ms. Jocelyn O Burton ('80)
Mrs. Jane (Owens) Cage ('78)
Mrs. Lucy (Luckhardt) Calder ('82, P '24)
Ms. Glenda "Beth" Elizabeth Campbell (MBA '20)
Mrs. Emily (Smith) Cockerham ('90, P '24)
Ms. Sara S. Cromwell (MALS '10)
Dr. Mary (Michel) Dalton ('83)
Ms. Elizabeth Joyce Dam-Regier
Ms. Hannah Elizabeth Duane ('16)
Mrs. Wendy (Clark) Eavenson ('74, P '09)
Mrs. Angela (Holum) Elmore ('86)
Ms. Lisa Elizabeth Ewart ('99, CERT '19)
Ms. Mercy Itty Eyadiel
Mrs. Brooke Michael (Johnson) Farmer ('00)
Mrs. Mona Lisa Hilbawi (Hilbawi) Flynn ('87)
Ms. Ginger Kay Gallagher (MBA '92, MSL '20)
Mrs. Lee Ellen (Skelton) Harmer ('99)
Mrs. Laura (Crump) Harrell ('92)
Mrs. Shelley (Slaughter) Holden ('00, JD '03)
Mrs. Jennifer "Jen" Lane (Mitchell) Hoover ('91)
Mrs. Megan (Bosworth) Hoyt ('12)
Mrs. Shana (Eagle) Hurt ('95, JD '99)
Mrs. Jane Moury Kane (MBA '96, JD '96, CERT '19)
Ms. Margaret "Maggie" Grace Kuhn ('21)
Mrs. Anne (Hauser) Lakusta ('81)
Ms. Camille (Russell) Love ('73)
Mrs. Andrea Lynn (Malik) Malik Roe ('99)
Dr. Allison E. McWilliams ('95)
Ms. Kristin Marie Peek (MBA '96)
Ms. Ann R. Phelps
Dr. Elizabeth Leigh Whiting Pierce
Mrs. Susan A. (Crawford) Pilon ('96)
Ms. Melanie Dawn Johnson Raubach (JD '10)
Dr. Malika Dawn (Roman) Roman Isler ('99)
Ms. Mahalia Chante Sapp (MSA '16)
Ms. Alexandria "Alex" (Reyes) Schroeder ('06, JD '09)
Ms. Adelaide "Alex" Alexander Sink ('70, P '11)
Dr. Margaret "Peggy" Supplee Smith
Ms. Julia (Reddick) Smith ('87)
Ms. Kelly Rachelle Starnes ('93, MBA '14)
Ms. Bailey Marie Stinson ('14, MSM '15, MBA '19)
Mrs. Pamela "Pam" (Muller) Swartzberg ('88, P '22)
Ms. Elizabeth Megan Thomas ('12)
Ms. Mary C. Tribble ('82, MA '19)
Ms. Melissa Anne Tuttle ('92, MBA '02)
Ms. Shuxia "Dola" Zhang ('19)
---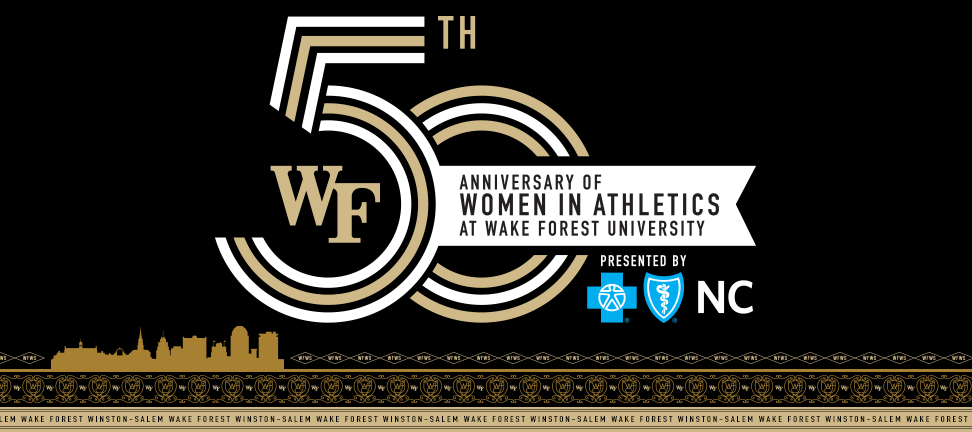 50th Anniversary Celebration of Women's Athletics at Wake Forest
April 1-3, 2022
As part of the ongoing efforts to celebrate 50 Years of Women's Athletics at Wake Forest, presented by Blue Cross NC, Athletics will host the official Celebrate Excellence Weekend on April 1-3, 2022.
The celebration will feature special opportunities for current Demon Deacons student-athletes, alumni, the Winston-Salem community, and all of Deacon Nation. Activities include an exclusive networking event for current women student-athletes and Wake Forest women alumni and supporters, hosted by ESPNW, a celebration event honoring the history, present, and future of Wake Forest Women's Athletics and an afternoon of interactive clinics, watch parties, and more across Winston-Salem's Reynolda Campus.
A full schedule of events, invitations, and opportunities for the public will be released soon. In the meantime fans can sign up here to receive this information as soon as it is available.
WAKE WOMEN'S WEEKEND 2019 PHOTOS